House impeachment managers rested their case against Donald Trump on Thursday, concluding that the deadly Capitol assault he stands accused of inciting was the culmination of a presidency beset by lies and violent rhetoric, and warning gravely that he would remain a threat to American democracy if not convicted and barred from holding future office.
With an impassioned appeal to the senators, who are serving as both jurors and witnesses to the alleged "high crime" at the heart of Trump's second impeachment, the nine managers chosen to prosecute the House's case declared Trump "overwhelmingly guilty" of inciting the 6 January riot.
"If you think this is not impeachable, what is? What would be?" congressman Jamie Raskin, the lead impeachment manager, asked the senators seated silently before him. "If you don't find this a high crime and misdemeanor today, you have set a new, terrible standard for presidential misconduct in the United States of America."
Over the course of two days, they offered a methodical account of Trump's months-long campaign to convince his supporters the election had been stolen. When all other attempts to overturn his electoral defeat failed, Trump summoned his loyal supporters to Washington for a rally on 6 January, his last stand. Hours before Congress met to certify Joe Biden's victory that day, Trump exhorted the crowd to "fight like hell" and "stop the steal".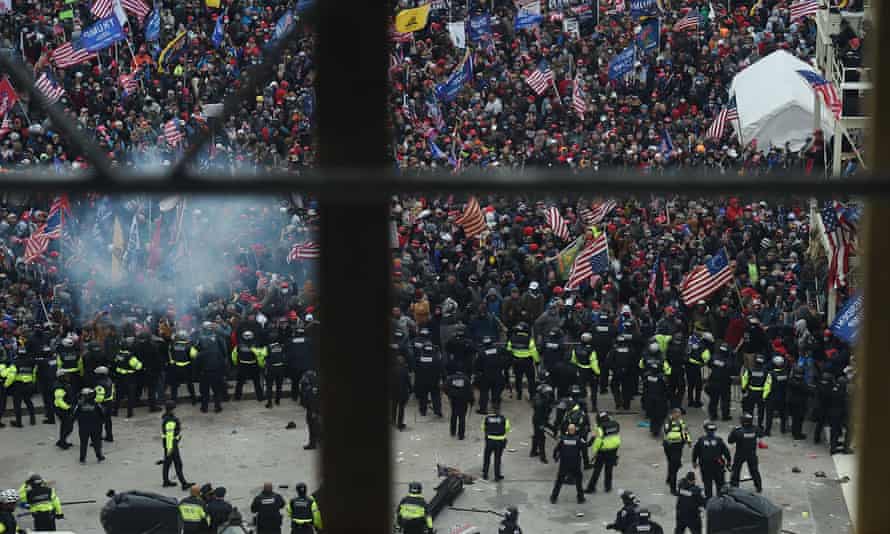 Advertisement
"When President Trump stood up at that podium on 6 January, he knew that many in that crowd were inflamed, were armed, were ready for violence," said the congressman Joe Neguse, one of the managers. "It was an explosive situation and he knew it."Five shocking videos from the Capitol attack shown at Trump's impeachment trialRead more
On their second full day of arguments, the prosecutors turned to the words of the rioters themselves as evidence they were acting at Trump's direction. They played several new video clips, and pointed to legal documents and media interviews in which the attackers said they were following Trump's wishes. "We were invited here," one rioter screams at a police officer. "He'll be happy," another said. "We're fighting for Trump.""They didn't shy away from their crimes, because they thought they were following orders from the commander-in-chief," said Diana DeGette, a Democratic congresswoman from Colorado. "They came because he told them to."
Trump deliberately fomented the violence, they argued, and then, once the siege began, betrayed his oath to protect and defend the constitution and the American people. In the immediate aftermath, Trump "showed no remorse and took no accountability", said the congressman Ted Lieu, a manager.
Source: The Guardian